Avon Gorge & Downs Wildlife
The Avon Gorge, Clifton Down, Durdham Down and Leigh Woods are just a few miles from Bristol City Centre and yet they're home to a wealth of wildlife. With stunning views, rare plants, ancient woodland, nesting peregrine falcons and awe-inspiring geology this is one of the most exciting places to see wildlife in Bristol.
Christmas with Avon Gorge and Downs
Noticeboard
Join in our Live Star Party hosted by Explorer Dome presenters together with Bristol Astronomical Society as we wrap up warm for a sparkling seasonal night of stargazing.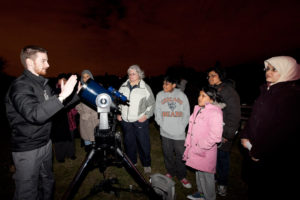 Let your creativity flow as we team up for the first time with the fabulous Belle de Jour Clifton florist and flower academy to create a unique Christmas wreath at the former Bristol Zoo Gardens.
Book now on our What's On page for Christmas events.
Avon Gorge & Downs Wildlife is a partnership of Bristol City Council, Natural England, the Society of Merchant Venturers, Downs Committee, University of Bristol, Bristol Zoological Society, National Trust and Forestry England.
We are also working in partnership with the Friends of the Downs and Avon Gorge.
Photographs: Juvenile peregrine facing forward (© Sam Coppard), Buttercups on the Downs (© Simon Muir), Spiked speedwell (© Libby Houston), Meadow on the Downs (© Denice Stout), Adult peregrine falcon (© Helen Hall). All other photos © Avon Gorge & Downs Wildlife Project and © Phil Jearey.