Conservation in Leigh Woods
Leigh Woods is an ancient broad-leaved woodland with ancient coppice and veteran pollards that has been designated as a SSSI ( Site of Special Scientific Interest). It was awarded this designation for its native trees and special and rare flowering plants.
Leigh Woods today is owned and cared for by two individual organisations – Forestry England to the north, and National Trust to the south.
Around 80 acres of Leigh Woods was gifted to the National Trust in 1909 by the Wills Estate, in order to protect this special place forever, for everyone. This southern part of the woodland is classified a National Nature Reserve.
A further 300 acres of Leigh Woods was purchased by The Forestry Commission in 1949. This land had been largely felled during World War II. Today Forestry England manage this Northern part of Leigh Woods for the benefit of people, wildlife and timber.
National Trust & the southern part of Leigh Woods
The National Trust side of Leigh Woods is two forests in one, the southern half is historic wood pasture and the northern half is ancient woodland.
The 2018 Veteran Tree Survey found that there are 390 live ancient and veteran trees, these are lapsed pollards but there are also hundreds of old coppiced stools that are of high nature value with many organisms making then their home.
This split in habitats mean that the management needs are quite different. As secondary woodland had grown up on the wood pasture, efforts in the last 15 year have been in felling trees to create more priority habitat grassland. This grassland then in turn needs managing and so grazing was introduced. The site is grazed from April to September with Red Devon cattle. This docile bread is ideal for such a busy woodland with walkers and dog walkers. Keeping the grass down allows many wildflowers which would struggle to compete with the grasses to bloom, and many species including orchids, bluebells, violets and celandine grow in abundance.
The site has an Iron Age hill fort which dates back to 300BC. This Scheduled Monument is managed for its archaeology and so it needs to be kept clear of scrub and the trees have been removed to ensure that the ground suffers little disturbance. On the other side of the Parish Wall is the ancient woodland, this area is dominated by trees and ground flora. The main management methods here are: haloing (opening up) around the veteran trees, coppicing and ride management. Most of these traditional methods of woodland management essentially let light into the woodland. Light is important for the ground flora and all its associated wildlife like butterflies and bees.
To find out more, visit the National Trust Leigh Woods website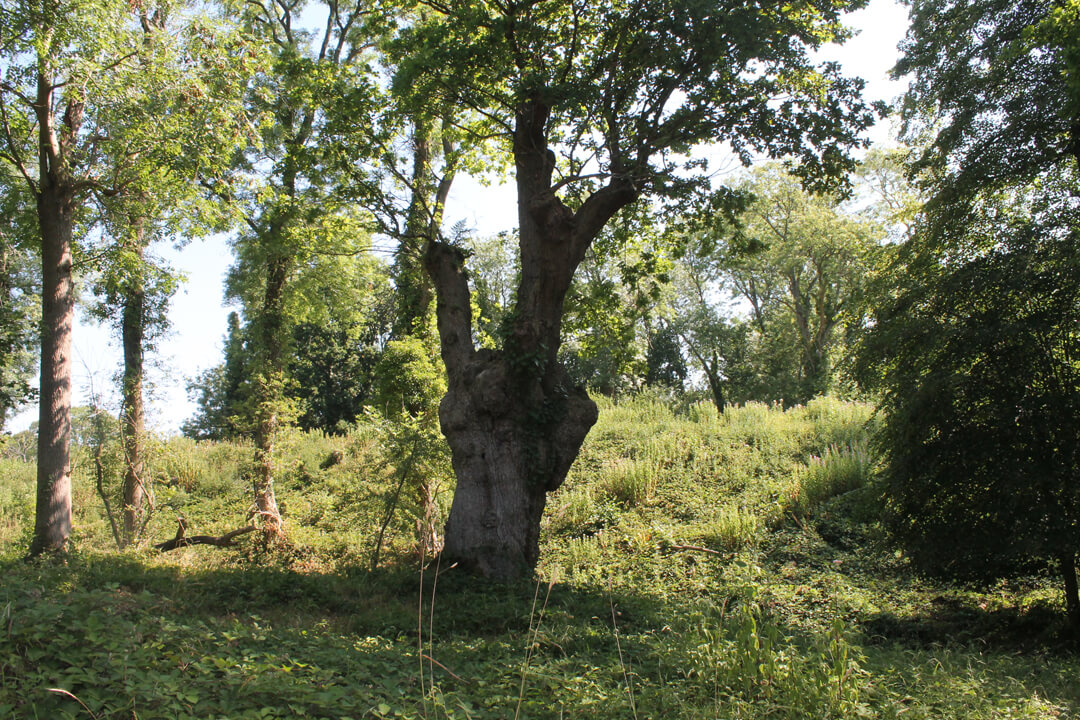 Forestry England & the northern part of Leigh Woods
Photograph: Autumn in Leigh Woods (© James Austrums), Old veteran pollard (© V. Stanfield).