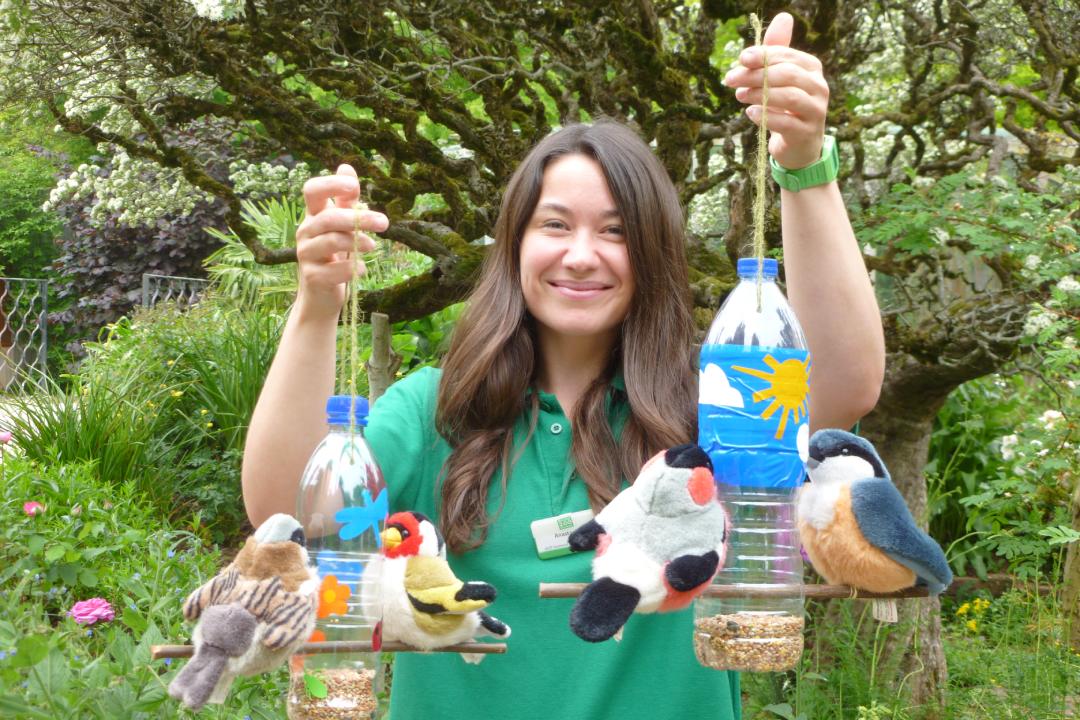 You will need Adobe Acrobat Reader to open the files.
Make a recycled bottle bird feeder
In February, as the days get slightly longer, there are signs of winter coming to an end and spring awakening. Look out for the first flowers of the year: cheerful yellow primroses and celandines; purple sweet violets and crocuses. On the Downs you can hear song thrushes and mistle thrushes who are joined by blackbirds singing heartily from the bare tree tops. Their speckled cousins, redwing and fieldfares (winter migrants from Russia, Sweden and Norway) can still be seen feeding on the ground – they'll be heading home in March to raise their families. Listen out for long-tailed tits making their high-pitched 'see-see-see' calls as they search for tasty insects to eat.
At this time of year, as food supplies run low, birds are looking for some much-needed energy. You can help to keep them well fed by making one of these recycled bottle bird feeders. Download this month's activity sheet to find out what to do and see which birds you can spot!
You will need
● An empty plastic bottle
● A craft knife
● A piece of string
● Masking tape
● A stick
● Sticky vinyl or foam shapes
● A pencil
● Scissors
● Good quality bird seed
● A funnel or paper cone
Step-by-step guide
1. Firstly, take a clean empty plastic bottle and remove all the labels from it. Ask your adult helper to use a craft knife to carefully pierce a few small holes in the bottom of the bottle for drainage.
2. Next, make two small holes in the top of the bottle. Thread through your string and tie it together to make a loop.
3. After that, about 1/3 of the way up the bottle, ask an adult to help you cut two triangular holes opposite each other. Only cut the top two sides of each triangle and push the plastic flap back towards the inside of the bottle. This is where the birds will feed from.
4. Now cover the triangular holes with some masking tape. (This is to stop the seed falling out when you fill it).
5. Beneath both of the triangular holes, ask an adult to cut a cross shape using the craft knife – we'll come back to this later…
6. Next, decorate your bottle. Draw some funky shapes on the back of the vinyl, cut out and stick on or use your foam shapes.
7. Now you can push the stick through the crosses you cut earlier – this is where the birds will perch.
8. Remove the lid and using a funnel or your paper cone, pour the seeds in until the bottle is half full. Screw the lid back on. Now you can remove the masking tape covering the feeding holes.
9. Hang up your bird feeder, sit back and enjoy watching the visiting birds.
Photographs © Avon Gorge & Downs Wildlife Project.