Avon Gorge and Downs family and children's activities
We run a programme of children's holiday activities and family events. We also have a range of seasonal trails designed to help you explore and learn about the incredible wildlife of the Downs throughout the year.
Upcoming family and children's events
Little kids on the Downs! Nature club for pre-schoolers with adult
New pre-school age child + adult sessions are a joyful mix of discovering the natural world through age-appropriate seasonal activities.
Date: 30th Oct - 4th Dec
Time: 4th December  |  10am – 11:45pm
Book online – click here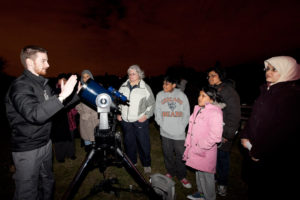 Christmas Star Party on the Downs - family fun!
Join our live Star Party hosted by Explorer Dome presenters together with Bristol Astronomical Society as we wrap up warm for a sparkling seasonal night of stargazing.
Date: Tuesday 5th or Wednesday 6th November or Thursday 7th December
*See event for details
Time: 7:00pm – 9:00pm
Book online – click here
To help you enjoy the wildlife of the Bristol side of the Avon Gorge and the Downs we've produced a range of leaflets which you can download below. Alternatively these can be picked up from The Downs Cafe on Stoke Road on the Downs, or call us on 0117 9030609 or email avongorgewildlife@bzsociety.org.uk and we'll send you a copy.
You will need Adobe Acrobat Reader to open the leaflets.
Photographs: © Avon Gorge & Downs Wildlife Project.